We, Gerald Huebner and Diane Kroeker (father and daughter) had the privilege to recently take a trip to share the joy of home education with people in far away places. We were invited to speak to families in 4 countries (Italy, Hungary, Ukraine and Belarus). These are countries where home education is either very uncommon (Italy and Hungary) or virtually non existent (Ukraine and Belarus).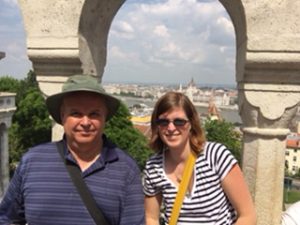 Our trip of 19 days, saw us participating and speaking at 5 different conferences in these 4 countries, and spending time meeting and interacting with many, many new friends. It was a truly wonderful trip with results beyond our hopes and expectations. But we should not be surprised as we know from Ephesians 3:20 that God does awesome things "now to Him who is able to do exceeding abundantly beyond all that we ask or think, according to the power that works in us…"  We safely traveled over 25,000 miles and spoke to hundreds of people at the conferences. Diane as a homeschool graduate and homeschooling mom was able to speak to and connect with folks and share the joys and practicalities of home education.
In Rome, Italy we spoke at a European Education Freedom and Homeschool Conference where we met many parents from across Italy. Although home education is legal in Italy the legal requirements can be very onerous for parents and the conference was a great opportunity for them to start discussions on the start of a national home education organization. In Hungary we participated and manned a homeschool booth at the World Congress of Families Conference. This is a huge pro-family, pro-life event with over 1,000 participants. We were able to meet with those interested in home education from Hungary as well as many other countries including Serbia, Czech Republic, Netherlands, Germany, Switzerland and France, to name a few.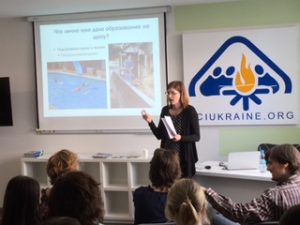 Next we travelled to Ukraine where we, together with a Ukrainian veteran homeschool couple, delivered the first ever homeschool conference in Ukraine. We had a lot of interest with 26 people attending. It was great to meet and interact with the homeschoolers of Ukraine and those interested in starting to homeschool. Passing on Christian family values to their children through homeschooling really interested them. We have already been asked to come back to speak in several cities across Ukraine. We spent time learning about Christian Camping in Ukraine as we were hosted and stayed at the Christian Camping International Ukraine Office in Kiev. The Lord is doing exciting things in camps across Ukraine.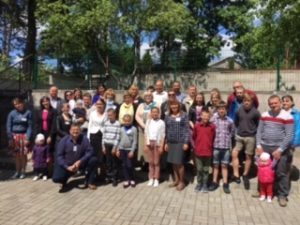 The last stop on our journey was a a marathon of conferences in two different cities in Belarus.(above picture are the attendees in Minsk area conference) Belarus is right beside Russia to the north of Ukraine and remains a communist dictatorship that is more soviet than Russia. In addition to being in Minsk we traveled to the south of the country and spoke in the city of Gomel which is close to Chernobyl in Ukraine. Then we headed back after the evening session to Minsk (over 4 hour hour drive) and did a full day session the next morning. We had a total of over 60 participants in Belarus with a lot of interest in home education. Although there are very few people currently home education in Belarus, we met one family who have home educated for several years already. We spoke about home education, but also about Christian parenting and discipling our children. It was a great time of fellowship and sharing. The folks in Belarus want to arrange a bigger conference for next spring, so we will likely have this in our plans.
It was an amazing trip and we were so honored to share our homeschool stories. So many families said the information we shared was completely new to them and they wanted to hear more. They had so many questions and God, through us, provided the answers about how to integrate education to all parts of life (Gerald turned a question about teaching children where meat comes when he talked about raising chickens into a lesson on teaching salvation). Please pray for the families considering homeschooling, and starting homeschooling, in Europe as they have a lot of opposition and it's always hard to be "the first ones".
Diane also has a blog for this mission, to access it see the following link dianekroeker.wordpress.com