"For God has not given us a spirit of fear, but of power and of love and of a sound mind." 2 Timothy 1:7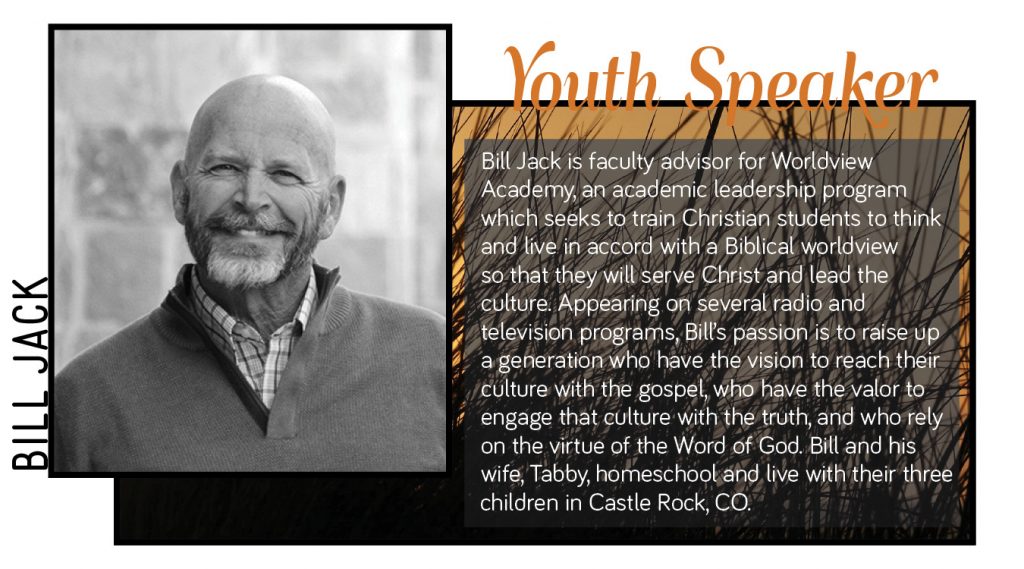 Bill Jack loves to speak to teens! Come and spend two days under his mentorship as you and your friends explore topics regarding reaching the culture and becoming an expert communicator. It will be interactive, funny, and thought-provoking. You will never be the same! Check out his all-star lineup of life-changing sessions below.
The Ways of the Wizards vs. The Way of the Wiseman: (Colossians 2:8)
The wizards are everywhere in our culture today. They promise that, if we follow their yellow
brick road, we can have it all—a brain, a heart, and courage. The wizards even promise us a way
home. However—"There is a way which seems right to a man, but its end is the way of
death." (Proverbs 14:12) These wizards include evolutionists, new agers, atheists and sincere
followers of false religions. The wiseman, on the other hand, knows the right path to follow and
to whom he should listen. Christians are to learn how to walk as wise men, ":making the most of
our time, because the days are evil." (Ephesians 5:15) Come join us as we take a walk on the
"wise" side. You will learn how to distinguish between the ways of the wizards and the way of
the wiseman. You will learn how to destroy secular arguments "raised up against the knowledge
of God" and learn how to "take every thought captive to the obedience of Christ."
Tearing Up Tracks Leading to Destruction
The Nazis used language to redefine Jews out of the human race. Once that was accomplished,
atrocities and death camps followed. Language is important, for it lays the tracks that are the
ideas that carry the consequences—boxcars filled with people's lives. Christians are on a search
and destroy mission;  we are destroying ideas, not people. Learn 4 Killer Questions that will
empower you to derail faulty thinking and challenge others to think God's thoughts after Him.
Follow Christ? It's just a 'FAD!' Will it Pass the Test of Time? (II Timothy 1:7)
Christian parents and teachers want their children and their students to love God. They commit
to training their children to love God with their all! Exactly how does that translate into our culture?
What is a FAD? Learn the three characteristics Christians must have and must instill in teens if
we want Christianity to be a FAD for the next generation. The Wizard's promises become the
illusion of a fad, a passing fancy; The Wiseman's promise is the FAD that will bless the next
generation.
Which Bias is the Best Bias to be Biased By? (II Corinthians 10:5)
Come meet the most dangerous professor your students will sit under in college. Everyone has a
preference, a bias, when it comes to matters of style, cuisine or automobiles. However, when it
comes to the big issues of life, such as, "Where did life originate?" our mental leaning, our bias, is often shaped by the current cultural thinking or a favorite professor. You wouldn't trust just
anyone to recommend a stock, car, or even a pizza joint, so why accept the biased opinion of a
teacher, politician or self-proclaimed expert when it comes to the big questions? Come discover
the bias that infects much of academia when it comes to the question of origins, and, most
importantly which bias is the best bias to be biased by?
Artificial Authority: (Matthew 23)
What can evangelical Christians, evolutionists, and atheists have in common? The Pharisees
wanted people to observe the law, but they forgot the purpose of the law and ended up honoring
God with their lips but having hearts far away from Him. Learn how to recognize the
masquerade of artificial authority when it parades in culture and even marches into church.
Seven Habits of Highly Suppressive People: (Romans 1:21-23)
Why do people reject the reliability of the Bible? It is not the common objections that people
give. Rather, it is because they "suppress the truth in unrighteousness." (Romans 1:18)
Christians should be able to answer those objections. Christians should, also, be able to
recognize the seven habits that people develop in suppressing the truth, listed in Romans 1:21-23. Come see these seven habits come to life through interviews with non-
Christians on a college campus. Learn how you, too, can give a defense of your faith in gentleness and reverence. (I Peter 3:15)
Taking What is Common to the Culture and Turning it into a Pulpit: (Acts 17:22)
(for parents and teens together)
From peach baskets to pitching mounds, from movies to museums, from…well, come discover
what tools and opportunities you might be overlooking to use in reaching this culture. Practical
strategies and insights!
 (tentative line-up, subject to change, full schedule TBA)