Homeschool Field Trip – Exchange District in Winnipeg
By  Teresa Bergsma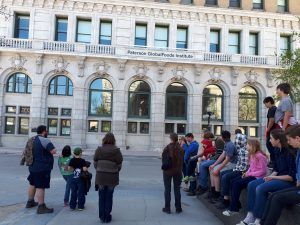 Our homeschool group recently had an opportunity to enjoy a guided walking tour of the Eastern Exchange District in downtown Winnipeg. This National Historic Site features an exceptional collection of heritage buildings built between 1880 and 1920. Nicknamed the "Chicago of the North", the Exchange features massive stone and brick warehouses, elegant terracotta-clad buildings, narrow angled streets as well as cobblestone paths and alleyways.  A very friendly and knowledgeable young lady took us down the streets to some of this beautiful architecture. The stone buildings with numerous floors were  a mixture of warehouse, retail, and apartment block structures built in the early 1900s. During that time Winnipeg was the Gateway to the west and had a robust economy.  We stopped regularly at different sites to hear Winnipeg history.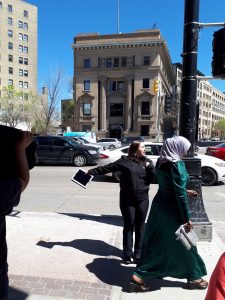 We heard about the wealth of the turn of the century banks, the vibrant Grain Exchange and how the Winnipeg strike in 1919 shaped the Labor movement in Canada for generations to come.  We also heard about the numerous fires that would flow through the buildings and the primitive way they battled with the flames in early days.
The walk was not long or strenuous, and our tour guide kept our interest with lively stories of long ago.   Our group enjoyed this outing and we would recommend it to others.  It was about 1 1/2 hours long and the price is very reasonable.
For more information see: https://www.exchangedistrict.org/tours/historic-walking-tours/