Let's get to know Steve Demme! He will be joining us as our keynote speaker at the 2018 MACHS Conference. Come hear him sharing the story of his personal journey toward a vibrant daily life in Christ and the impact the love of God has made on his parenting.
Click here to take a deeper look into Steve's ministry.
He has a great podcast that you should check out, and
a facebook page.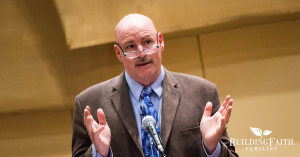 His desire is to strengthen, teach, encourage, validate, and exhort parents in Manitoba to follow the biblical model for the Christian home.
Steve and his wife, Sandra, have been married since 1979. They have been blessed with four sons, three lovely daughters-in-law, and three special grandchildren. Their fourth son, John, has Down Syndrome and lives with them in Lititz, PA.
Steve is the creator of Math-U-See and the founder of Building Faith Families. He has served in full or part-time pastoral ministry for many years and has served on the board of Joni and Friends Eastern PA.
And you get to meet him this March…
Laugh, tell stories, and hang out with one of the homeschooling pioneers.  Get a selfie with the home educator's favorite math teacher.  It's going to be Steve-U-See!