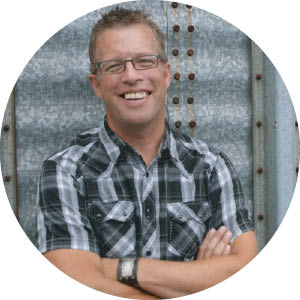 TODD WILSON, is a dad, grand dad, writer, conference speaker, and former pastor. Todd's humor and down-to-earth realness have made him a favorite speaker at homeschool conventions, retreats, and churches across the country.
As founder of Familyman Ministries, his passion and mission are to remind dads and moms of what's most important through a weekly e-mail for dads, seminars, and books and products that encourage parents.
Todd, and his wife Debbie, homeschool four of their eight children (four have graduated) in northern Indiana and travel America in the Familyman Mobile. You can read more at www.familymanweb.com
Todd Wilson's  Workshops
Lies Homeschoolers Believe
Friday 10:30 am
Your house is a disaster, your kids seem out of control, and you wonder how you'll ever make it through another day of school. Your "get up and go" has "gotten up and went". You used to think homeschooling was the best thing since sliced bread, but now you're feeling like burnt toast. Take heart – you're not alone! No one homeschools because it's easy. You do it because you believe it is best. But there are times when you need to be reminded once again why it's best. Join me as we do just that. You'll laugh and be encouraged in the toughest job you'll ever…love.
Priority Homeschooling
Friday 2:30 pm
For over ten years now, I have been reminding moms and dads of the truth behind homeschooling. I tell them it's about relationships and letting their children be what God has created them to be, and blah blah blah blah blah…
Moms often come up to me and say, "I believe everything you say…but how do I do that? How do I homeschool in light of all these truths?"
Well, Madam Homeschooler, I'm going to show you. Join me as we get down to the nuts and bolts of homeschooling in light of these truths. Buckle your seat-belts and hold onto your seats.
Don't Tell Me What You Believe…Live it
Friday 4:00 pm
There's a lot of talk about Christian worldview. In fact, never before have Christian teens received so much training in developing a proper worldview. But something seems dreadfully wrong, because the truth is…there just doesn't seem to be much difference between "our teens" and "their teens." To be honest, there sometimes isn't much different between "our adults" and "their adults." That's about to change.
Join funny guy, Todd Wilson as he talks about a very REAL, Real Christian Worldview.
When the Teacher Became the Student
Friday 7:00 pm – KEYNOTE
Like you, when we began our homeschooling journey, we asked ourselves, "Will we be able to teach them all they need to know for success?" There were so many options and subjects to teach them. They were loaned to us knowing almost NOTHING, and we were expected to fill up their noggins and prepare them for adulthood.
Little did we know then that homeschooling turned out to be not only what we taught them…but what THEY taught US. Never would we have believed how God would use homeschooling to teach us what he needed us to know as parents, homeschoolers, and as His children.
So park your car early, get a latte, and join me for an intimate time of sharing and laughing at the lessons my children taught me. My hope is that you'll start to view your homeschool day less as a time to teach and muscle through but as a time to learn and enjoy.
Raising Dangerous Sons in a Safe World
Saturday 9:00 am
Let's face it! Most men today are yellow-bellied, Lilly-livered weenies. They may wear tall Stetsons, drive fast cars, bungee jump from bridges, collect souped-up power tools, and carry big black Bibles, but they're weenies. They flex their biceps and proclaim their faith, but when the economy collapses, the newest pandemic hits the scene, a family crisis arises, or the going gets tough…they play it safe. Truth is: God wants your sons to leave the heavily-populated, safe waters and live dangerously. He wants your sons to trust dangerously, work dangerously, and love dangerously. But, that doesn't come naturally. Everyone around them, from the talking heads in the media to pastors in the pulpit, keep repeating, "Play it safe." Here's a secret: dangerous living leads to joy, family happiness, and real success while safe living results in worry, family failure, and heartache.
So join Todd as he encourages you and your sons to GET DANGEROUS.
This We Believe
Saturday 10:30 am – KEYNOTE
Dads and moms, in all the busyness of life and swell of expert advice, we've forgotten the fundamental truths of homeschooling and family. In short, we've forgotten why we do what we do. We have plenty of "how tos" but have forgotten the "why tos" and it evidences itself in our lack of joy of homeschooling, family, and parenting.
Join funny guy and familyman, Todd Wilson, as he sets the stage for a great homeschool convention and the best year ever as he brings us back to the basics of what we believe about family and homeschooling. You're not going to want to miss this for the world.
An Unbeattable Homeschool Team
Saturday 1:00 pm
Marriage is hard…in fact, it's real hard! Yet when it is right and good, it can withstand anything. It doesn't matter what the economy does, the status of your bank account, the condition of your home or vehicles, or what your children dish out…because when a husband and wife are right, they're unbeatable.
On the flip side, when a husband and wife feel distant or apathetic, it only takes the slightest breeze to ruffle a bunch of feathers. The truth is a mediocre marriage sucks the joy right out of life and your homeschool. The economy can swing up, your checking account can be healthy, your home and vehicles can purr like kittens, and the kids can behave like angels, and life still…stinks.
That's because marriage matters.
10 Things You Need to Teach Your Daughter Before She Graduates
Saturday 2:30 pm
When you're choosing what to teach your daughter, it really boils down to what matters and what doesn't…or what your daughter needs to know to live happily ever after. The only problem is that everyone seems to have a different answer. Experts stand on every street corner shouting something different, "They need to know state history…master advanced algebra…and speak a foreign language." It's enough to give a well-meaning parent a headache and an ulcer. After all, what if you forget to teach her something important, dooming your daughter to a life of misery and failure?
Problem solved. During this hour, Todd will cut away the tall grass and share with you the top 10 Things You Need to Teach Your Daughter before She Graduates that guarantees happiness and success.
Dream Big
Saturday 3:45 pm – KEYNOTE
Everyone has dreams – you, your spouse, and your children, but for every dreamer a dream killer lurks in the shadows. They're the ones who constantly remind you why you shouldn't homeschool, have more children, be a stay-at-home mom, start a new business, or take that step of faith God's telling you to take. Dream killers grew up with you. They live in your house and sometimes they even…are you.
Their intentions may be good, but if you listen to them, you will miss out on God's best for your life. Join Todd as he helps you revive old dreams, fan the dreams in others' lives, and urges you to throw caution to the wind and set sail for the adventure of a lifetime.