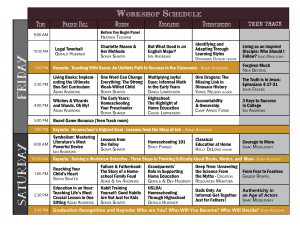 Weekend Schedule
Friday, March 22nd
9:00 Before You Begin (free session)
9:30 Registration opens
10:30 Workshop 1 and Teen Track
12:00 Exhibit hall opens
1:00 Keynote
2:30 Workshop 2
4:00 Workshop 3
5:00 Board Game Bonanza (Teen Track Room)
6:30 Keynote Prelude, Exhibit Hall closes
7:00 Keynote
9:00 Film Fest
Saturday, March 23rd
8:30 Registration and Exhibit hall open
9:00 Workshop 4
10:30 Keynote
1:00 Workshop 5
2:30 Workshop 6
3:30 Exhibit hall closes
3:45 Graduation Recognition and closing Keynote
Workshop Descriptions
Before You Begin(9:00-10:15 am)-Heather Teichrib (FREE)
This session will cover what parents need to know as they choose to start home educating. This free session will answer questions like: Can I do this? How will it affect our family? How do I get started? What does the Manitoba law say? How do I comply with the law?  Where do I look for answers? And what about socialization? This is a free session open to the public and it will offer an opportunity to ask you own questions to our veteran parents.
Workshop 1  –  10:30 am Friday
Manitoba Legal Town Hall- Gerald Huebner
An opportunity to hear the latest in legal and legislative developments affecting home education in Manitoba and to raise your questions regarding your rights and responsibilities as a home educating parent, such as: How do I answer questions from the Department of Education about my reports? Is the Manitoba government going to clamp down on homeschool freedom? How does the review of Manitoba's education system by the new Minister affect home-educating parents, and what is MACHS doing about it? This session will be led by HSLDA Board Chair and long-time MACHS Board member, Gerald Heubner, and it will include a presentation as well as a significant time for discussion and your questions.
Charlotte Mason and Her Methods – Sonya Shafer
Join Sonya for a practical and encouraging overview of the simple yet effective methods used in the Charlotte Mason approach. You will learn about Charlotte and experience using her methods for yourself during the session.
"But What Good is an English Major?"- A Homeschool Graduate Reflects on the Benefits of a Literary Education – Ian Andrews
K-12 homeschooler and Hillsdale College graduate Ian Andrews, son of Adam & Missy Andrews, shares experiences from a lifetime of reading and encourages anxious Moms with a thought-provoking question: Can great literature help my kids succeed in a scientific and technological world?  Ian provides an inspiring summary of an all-time classic story and argues that the self-knowledge, humility, and wisdom that come from reading such stories are absolutely critical for success- and that you, as the Mom in the trenches, can lead them right to it. Literary education worked for Ian, and it can work for your students too.
Living as an Inspired Disciple: Who Should I Follow? – Isaac Mogilevsky (Teen Track)
Isaac Mogilevsky, Executive Director of Daily Disciple Ministry, examines the foundations of what makes a true disciple. Isaac also explores one of the most important questions that many teenagers are asking today: who should I follow? Join him as he combats the lies that the world passes off as answers to this question and digs into God's truth.
Workshop 2    –   2:30 pm Friday
Living Books: Implementing the Ultimate Box-set Curriculum – Adam Andrews
Regardless of the age of your students, the classics of Western civilization offer you a complete set of the greatest curriculum materials ever created. CenterForLit director Adam Andrews shows you how to put this treasure to work in three simple steps – all without buying a single text book. Learn how to let the authors speak, and your class will never be the same.
One Word Can Change Everything: The Strong Weak-Willed Child – Sonya Shafer
When Sonya realized how Charlotte Mason defined strong-willed vs. weak-willed, it completely changed her attitude toward her children. If you feel like you are constantly butting heads in a battle of the wills, this session could revolutionize how you view your child. Discover helpful ideas that can relieve the tension, refresh your perspective, and restore the peace.
Multiplying Joyful Days: Informal Math in the Early Years – Danea Lawrenson
Can you take away formal math to transform your school days, adding up to more engaged students who are better equipped for the future?  If math is a real hangup in your school day, there are ways to eliminate the tears while increasing learning. Imitating the public school system does not actually benefit elementary students.  Rather, adding math activities from everyday life keeps the concepts real throughout the years. You can take home proof that informal math works, along with more than 100 ideas to enjoy together.
Dire Dragons: The Missing Link in Dinosaur History (Untold Secrets of Planet Earth Publishing Company Inc.) – Vance Nelson
Come on a visual tour of our planet with researcher, explorer, and author Vance Nelson, and see verified evidence that medieval to ancient people must have seen dinosaurs and "extinct" reptiles alive recently. Depictions, many new to the creation community, provide powerful evidence that the Bible's account of history in Genesis is accurate—people and these allegedly extinct creatures lived together recently. If you need to see the evidence, don't miss this session.
The Truth is in Jesus: Ephesians 4:17-21 – John Feakes (Teen Track)
The purpose of this lecture is to instruct and encourage our young people to build their lives on the solid rock of God's word. John will show them that it is not only morally upright to do so, but it turns out it is a rational necessity as well. The corollary to this is that all thinking that is contrary to the teaching of Scripture is outright foolishness. As Paul rhetorically asks, "Where is the wise? where is the scribe? where is the disputer of this world? hath not God made foolish the wisdom of this world?" (1 Corinthians 1:20).
Workshop 3   –   4:00 pm Friday
"Witches and Wizards and Wands, Oh My!" – A Parent's Guide to Fantasy, Fiction and Faith – Adam Andrews
As fantasy grows ever more popular in our culture, books and movies teem with elements that many Christian parents find objectionable.  How can we equip our children to engage and influence their culture while protecting them from its evils? Adam makes a case for a type of reading that can accomplish both of these goals, and a vision for the Christian imagination that can restore our civilization to its roots in the transcendent God of all worlds, seen and unseen. Will the future of our culture be dominated by fairy tales and fantasy? Will it be ruled by wizards and dragons and enchantments? Help your students become the ones who will decide!
The Early Years: Homeschooling Your Preschooler – Sonya Shafer
Give your child what is most important. Instead of academic or social pressures, Charlotte Mason encouraged mothers to give their little ones a full six years of developing good habits, getting acquainted with nature, exploring with the five senses, growing in their spiritual lives, and more. Learn how to give your child a quiet growing time.
Highschool: The Highlight of Home Education – Chuck Lawrenson
If you are just considering high school at home, or are wondering how you will manage, come hear about how families are succeeding and enjoying some of their best homeschool years.  The flexibility available to home educated students is the key ingredient in accessing the potential to fulfill a greater vision for character and learning. Learn the basics about high school requirements, how to make up a transcript and a portfolio and what the universities are looking for, along with how parents and students alike can look back at high school as the most valuable part of home education.  
3 Keys to Success in College – Ian Andrews (Teen Track)
Ian Andrews, K-12 homeschooler and Hillsdale College graduate, reflects on his own literary education, offering three key principles for continued success in higher education, while recommending a book that every high school student should read before graduating.
Workshop 4     –     9:00 am Saturday
Symbolism: Mastering Literature's Most Powerful Device – Ian Andrews
No matter the author or genre, every work of literature is built in part on symbols. Identifying them, however, can be frustrating and difficult. Often it seems that an author's symbols obscure his themes instead of making them clear. In a riveting presentation of one of the earliest English Poems, Ian Andrews explains this powerful device and shows how it can help you unlock the meaning of even the most difficult classics.  All you need is the right series of simple questions.
Lessons from the Valley – Sonya Shafer
After diagnosing her youngest daughter with autism, Sonya found herself in a spiritual valley. Though your valley may look different, the giants that she encountered there may seem eerily similar to your own. Learn what Scriptures the Lord used to help her overcome five giants in the valley: the giants named Fear, Faltering Faith, Uncertainty, Guilt, and Self-Pity.
Homeschooling 101 – Stacy Fraser
In this session, Stacy will share her experience teaching high school in a public school while their three oldest children were in public and private Christian school, and the decision to pull them out in grades four, five and seven and start to teach them at home. Together, you will explore different learning and teaching styles, how to get started homeschooling, what a day might look like, resources, and more! There will be time for your questions. Come and be encouraged!
Courage to Move – Isaac Mogilevsky (Teen Track)
What does a courageous life look like? You may think of a medieval knight stepping into battle time and time again or perhaps a modern military officer, risking his life for the cause he believes in, or a doctor helping disease victims in third world countries with the risk of catching it themselves.  All of these people could be good examples of living a courageous life. In this session, Isaac explores what it means to live courageously for Christ and the importance of choosing the right fuel for our courage.
Workshop 5   –  1:00 pm Saturday
Reaching Your Child's Heart – Sonya Shafer
A mommy-to-mommy challenge about priorities in your homeschool. Sonya shares six ways to reach your child's heart—taken from Elizabeth's example in Luke 1—and four obstacles that can keep us from reaching the heart.
Failure and Fatherhood- The Story of a Homeschool Family Feud – Adam and Ian Andrews
Adam and Ian Andrews recount the difficulties of their shared scholastic journey.  Sons and fathers alike will find something- and someone- to relate to in the testimony of these two homeschool veterans.  What do our children need most from their fathers? How can we be sure to give it to them? Most importantly how do we fix things when we do it wrong?  Come hear about the hope that awaits for us all on the other side of failure. You will find balm for your wounds, peace for your mind, and rest for your soul- and all in a most unlikely place.
From Fear to Fearless – How God brought a homeschool girl from rural Manitoba to some of the most remote places in Asia – Ginger Rempel (Teen Track)
Come hear a personal testimony from a homeschool alumni of her experiences overseas, and her heart and passion for missions, nomads, and the unreached.  Also learn some crazy facts about the least reached peoples in the 10/40 window, why God's global mission is important and ways that you can be involved right now.  
Workshop 6    –    2:30 pm Saturday
Education in an Hour – Teaching Life's Most Crucial Lesson in One Sitting – Adam Andrews
If you had only one hour in which to give your student a complete education, could you do it?  If you accepted the challenge, what lesson would you teach? Adam Andrews argues that a complete and profound education can be acquired in one lesson – and then sets out to prove this audacious claim in an eye-opening, inspiring presentation.  Adam first demonstrates the lesson using an example from his own subject, Literature. He then shows you how to teach it in your own area of interest. Adam gives examples of the lesson from every subject in the curriculum and invites the audience to contribute their own ideas.  The power of this lesson may revolutionize the way you teach on a daily basis – and it only takes an hour!
Habit-Training Yourself: Good Habits Are Not Just for Kids – Sonya Shafer
Yes, we want our children to have good habits, but many of us parents struggle with habits in our own lives. Take a look at four powerful pictures that give insight into how habits are formed and what to do about your bad habits. Learn the three most important words to keep in mind when habit-training. Discover how to instill your own good habits that will serve you well and help your days run smoothly.
HSLDA: Homeschooling Through High School
You CAN homeschool through high school! Learn more about various options available to support your child through high school at home. Find out how even you can tackle difficult subjects through a variety of resources. Discover how homeschooling through high school can successfully prepare your child for post-secondary education. Gain additional insight into open universities and other opportunities for home educated students.
Dads Only: An informal get-together just for fathers
Authenticity in an Age of Actors – Isaac Mogilevsky (Teen Track)
In our age of social media, where people can present themselves idealistically, the trait of authenticity is rarely seen. In this session, Isaac Mogilevsky presents the benefits of authenticity, the importance of authenticity with ourselves, others, and God.  He will also share related personal stories.