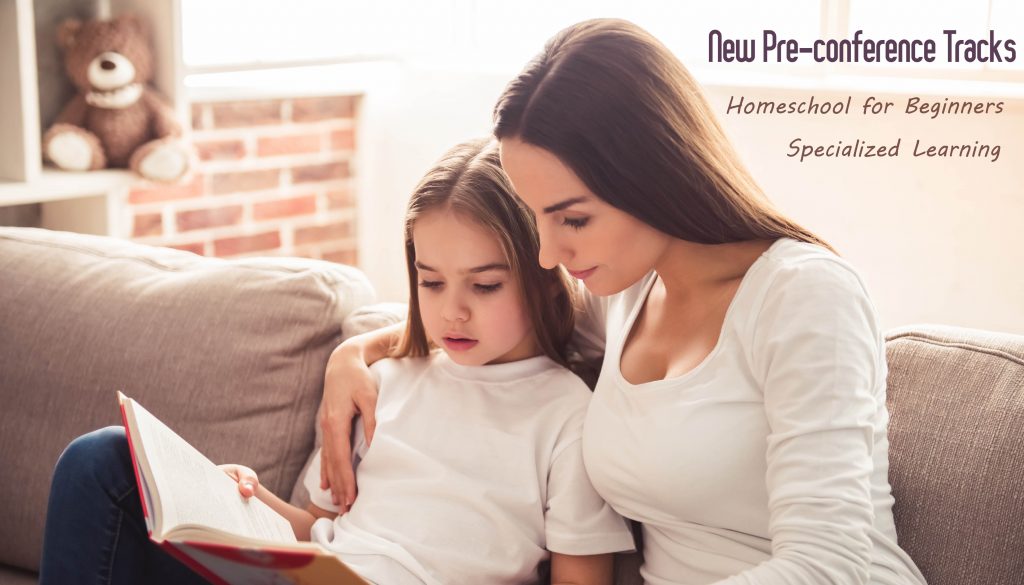 Starting at 9:00 am on Friday, there will be two special tracks-
Homeschool for Beginners and Specialized Learning.
Access to these tracks is included in your conference registration.
Specialized Learning will have three hours of practical help and encouragement for those parents and students who have extra challenges or special learning needs.
Homeschool for Beginners will start with Before You Begin, a free session for those who are thinking about or just starting their homeschool journey.  Then those who are registered for the conference can continue with an in-depth Beginner's Guide at 10:30.  Both sessions will include a Q&A time with veteran homeschool parents.
Homeschool for Beginners
Looking for a crash course in everything you need to know for your first year?  We're offering you a full morning, split into four segments, to hear from parents who have experience with the dilemmas you may face.  
In the first hour, Before You Begin will cover what parents need to know as they choose to start home educating.  This free session will answer questions like:    Can I do this?  How will it affect our family?  How do I get started?  What does the Manitoba law say?  How do I comply with the law?  Where do I look for answers?  AND what about socialization?  This is a free session open to the public and will offer an opportunity to ask your own questions to our veteran parents.
Following this, conference attendees will be welcome to join us for the Complete Beginner's Guide, starting with a presentation on the basic homeschooling styles to familiarize yourself with some terminology you might hear thrown around, as well as figuring out how your children's learning styles could play into your decision. Then, we'll have a curriculum panel, where moms who have used different types of curriculum will give you an idea of what may work for your family or your child, and you'll have a chance to quiz them.   Finally, we'll cover some of the difficulties you might encounter:  what to say or not say on your forms, how to answer grandparents' questions, how to make it through the really tough days (there will be tough days), and how to get it all done on a tight budget.  
Sounds like we must have all the answers…  definitely not!  But we have been there and would love to share some pointers to help you get started on the most challenging, rewarding, amazing adventure God has called you to- taking charge of your kid's education.
(meet the beginners team here)
Specialized Learning
How Your Child Thinks: Keys to Learning Success (Part 1) 9:00
Dr. Ian Mogilevsky
Research has shown that the ability to process information has a direct relationship to how children learn. Understanding how your child thinks, or 'cognitive processing', can help you figure out areas of focus to improve learning, especially when your child is having specific academic difficulties. Strategies to help your child to plan and to pay attention will be covered.
How Your Child Thinks: Keys to Learning Success (Part 2)  10:00
Dr. Ian Mogilevsky
Although this is part two, it is also a stand-alone workshop. We'll learn more about how your child thinks or 'cognitive processing' that will help you teach your kids the skills to see how parts are related as a whole and to work with information that is arranged in a specific order.
Walking on Eggshells: Homeschooling Emotional Children 11:00
Ross McCallum
Do emotions run your home? Do fear your child's tantrums, tears and/or terror when the school books come out? Or the chores? Or when you won't let them put on that shirt that hasn't fit since Kindergarten? Or… (fill in the blank)? This presentation will discuss how kids learn to regulate their feelings and what you can do to help them move from ruling your roost to ruling their spirit (Prov 16:32).